Well when I had originally asked for outfit advice, all I said was "I have Peggy Lee big hair, what kind of photos should I take tonight?" I texted, and the text I got back said, "something in plaid, maybe start with a dress and stockings...". So thanks to Jarrod I came up with this Peggy Lee/Pasty Cline thing lol. The post before this is the Peggy Lee stuff, I love her to much it was a big post, had to make these separate. I couldnt find this one thing to go with my plaid dress, so I opted for way cuter shorts and plaid shirt.
**Hair credit goes to the lovely Julie of Orchid Grey (http://orchidgrey.blogspot.com/) She did a hair post on how she gets her hair so big and I did it and LOVE it!!! Ive been rocking it for the last 2 days now!**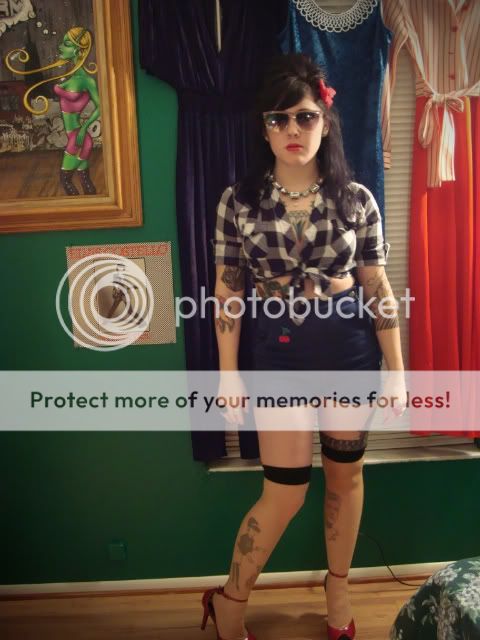 I love this shoes!! My grams actually bought these for my at my favorite shoe store, Bakers!
All the accessories that I typically wear most of the time.
My glasses from the 60's, my Tiffanys necklace that Tyler bought me and I can never be without it. I always wear my great grandmother's wedding band. Then my silly rings, that were all some how oddly enough bought at Forever21, now that Im thinkin about it. The other necklace is from Forever 21 too.
HERE ARE THE 3 PASTY CLINE RECORDS I HAVE
Again, thanks goes out to Jarrod for outfit advice and hair info from Julie of Orchid Grey
Top: Button down from Forever21
Shorts: Cute vintage re-po's from Stop Starring Clothing
Stockings: Hot Topic
Shoes: Bakers
Accessories covered in blog