I was lucky enough to get out of the house more then once this weekend! I got to go to this really great art show at the Orpheum in Tampa, Fl (Ybor). Seeing as I went treasure hunting and got some amazing new things!! I decided to wear my new denim shorts I got at goodwill.
Omg I completely forgot about these boots! Ive have them for 6 years and its like now they're totally in style. Meaning I was way ahead of the trends even back then haha. I remember too that my Grams bought them for me, and we were at Dillards. She always buys me the best shoes. She started my shoe obsession with a false pair of Ruby Slippers...but ever since she's always bought me the best shoes!
Well I started a new painting last night as well! Its almost done! I ended up wearing my shorts all night haha. The glitter owl was so much fun to paint now that I have all the paints and stuff! I didnt have any art supplies for awhile!
I have a lot of new stuff coming up this week! I completely cleaned my room! It was terrible, this was the hot mess I was sleeping with...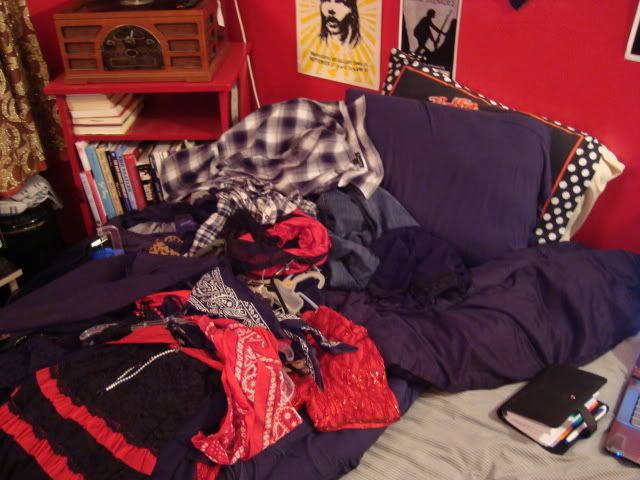 So needless to say it was time to pick up and put stuff away. Now I know where everything is and am making it more functionable to do stuff in the small space. I went thrifting and got some beauties! I'll be working on those all week!
Hope everyone has a good February!
Shorts: Vintage RL Polo Jean shorts, goodwill
Shirt: Plaid button down, Ross
Vest: Mom gave to me
Tights: Forever21
Boots: Gifted, bought at Dillards
Tank Top: Forever21