Hey hey hey! Hope everyone has been going good! Its been a little rocky for me. Up and down. I took a long bubble bath this morning, stopped by the tattoo shop and saw Justin, and went to the grocery store. My friend Chris is in town recording for the new Big D and the Kids Table album! He's been staying with me and I made him dinner last night, at like 1am haha. Its been nice having his company. We even went for a walk around the pond because it was so nice out today.
With the sun shining, it was hard to be bummed out and stay inside. So I cheered myself up, put on one of my favorite dresses and took some cool photos on the roof!
I love my egg yoke yellow nail polish! Makes me think of my gurl Jessy <3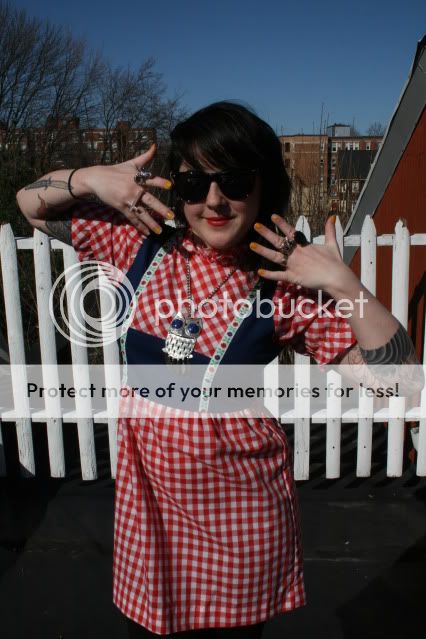 Theres only one perfect necklace to wear with this dress, and its this awesome owl necklace my grams found for me.
Im still so in love with my hair, Im going to have more taken off the next time.
Aside from what happened that made me sad, Ive actually been doing really good. Ive been working really hard lately, and staying real busy. Keep busy, keep out of trouble. Ill be working at our 324 Newbury location starting this Thursday! Just one day a week, but Im so excited to be working with those ladies again. Im very proud of myself for continuing to paint, Ive been doing some really good paintings lately. Ive also been getting into some new music and updating my itunes. I am in love with Empire of the Sun. Ill also be going to see FLOOR April 15th with two very awesome guys, Tom and Shaun from Sonic Titan! Thats gonna be heavy as shit! Well, I just need to keep my chin up and keep that lovely smile on my face. I hope everyone has a great week! XOXO!
Dress: Vintage, picnic dress, Ebay $10
Leggings: Second Time Around;Harvard Square $9
Flats: DSW, mom bought for me
Necklace: Vintage owl, grams found at a flea market