Toga Party!!!! Saturday was Josh's going away on deployment/birthday party! His roommates Eric and Ryan threw it for him, needless to say, it was my first toga party and it was ballin!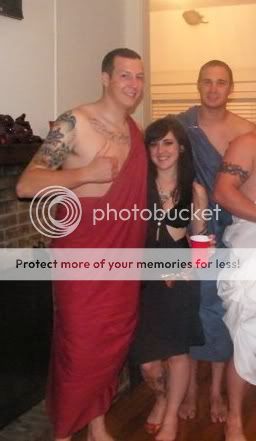 What a great time, my girl Kaitlin even came out to party with us and brought a new friend! I spent all weekend at Josh's, he was the perfect gentleman the whole time, even took me to my interview Saturday (WHICH I GOT!!!). His roommates Eric and Ryan, great guys, made me feel welcomed and included me in things! We went out bar hoping in St. Pete. Friday night with Eric's gf Becka too and shes such a sweetheart!!
Best 3 guys! Ryan, Josh and Eric!
Josh and I, Ryan, Becka and Eric, and Jennifer!
Again it was a great weekend! Josh wont be back till August but times gonna fly by because I finally got a job!!! Im the new waitress at Winners Sports Bar in Tampa, FL! I even served a man today who just got home from Iraq, while saying goodbye to Josh, the man asked for a PBR and I was more than happy to serve him. Things are finally looking good! I hope everyone had as much fun this weekend as I did! XOXO everyone!