Its almost getting TO cold!!! I finally got to wear these amazing shorts I bought in FL right before I left. The thing is, they're slightly faded black so Ive been having a hard time trying to pair a top with the shorts. I dont know why I didnt think to put other colors with it, like bright bold colors. Ive been saving my blue plaid button down for when it got cooler because its a bit thicker than my other plaid button downs. This electric blue mixed with black and gold swrillies color combo is awesome! I was considering getting rid of the shorts, but Im SOOOO glad I kept them!
I had the best lighting in my living room this day.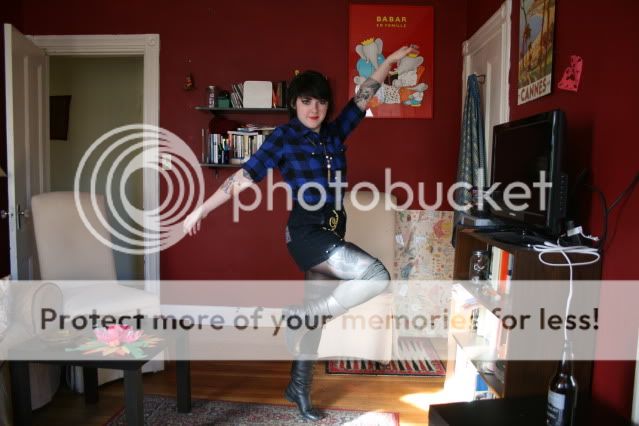 I rarely get dressed up for work, once I get there I usually have some handy-man type of task to do, or I just dress purely for comfort. It really can be a pain in the ass trying to use the ladies room and undress, having to pull tights back up, they never feel the same twice. Having to tuck shirts in a bunch of times, re-adjusting belts, ect... sometimes it is such a hassle, so I just wear jeans and a top, much easier. The days I have time in the morning to really put together a nice outfit, I some times enjoy it and get really decked out. The shorts were a big hit all day. I got complimented on them quite a few times. Its still not to terribly cold I can still get away with tights and shorts.
I took one just as I was running out the door! I recently bought the green jacket at Goodwill in Central Square. Im glad I bought it as big as it is, because it goes over my black jacket nicely and has huge cargo pockets!
Other than that I just bundle up and try to stay warm!! Xoxo my lovely readers!
Top: Goodwill (Tampa, Fl) $4
Shorts: Goodwill (Tampa, Fl) $4
Tights: Forever21 $3.50
Over-the-knee-socks: Urban Outfitters
Necklace: Gift from Grams
Boots: Community Thrift (Tampa, Fl) $4.50
Red Lip Stick: NYC Retro Red

Black Jacket: Forever21 $16.00
Green Jacket: Goodwill (Central Square) $6
Scarf: Second Time Around Harvard Square $10