I really love my job, I see clothes all day. Its nice because I dont have a lot of clothing and I can get some stuff from work for cheap. A customer ended up bringing us a drop off and with that she has to donate the clothing we dont take. Well I went through her stuff and ended up taking a few things, but at the bottom of her back was this just simple big black t-shirt. I ended up taking it but made it cheap. I bought it that night, ended up wearing it when I got home to lounge around in, and just ended up sleeping in it that night. Well... when I got up I didnt give myself enough time to really get dressed and eat something before I left for work... SO I just threw on some tights and my waist cincher! Basically, I got complimented a lot on my outfit for the day haha.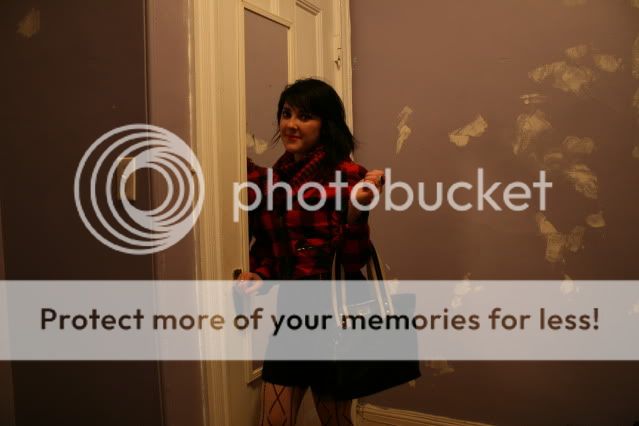 Ive noticed when I take photos I always forgot to get the entire outfit. That includes jacket, scarf and purse. The purse, it s real Coach bag I found at a good will up here (the one in Somerville) I paid $5 for it. That jacket, I got it at Forever21 a few months ago on sale, its been a major success. So my mom ended up sending me my waist cincher, smart thinkin on her part, because it really can make an outfit ten times more awesome. I took a plain old t-shirt and make it a sweet dress.
Ive been trying to dress a bit nicer for work instead of black jeans and a button down. This was a good day for me. Work has been going really well, so many good things and Ive been impressing my managers so much! Looks like Ill be staying in Boston for sure. I was giving myself a 6 months grace period, but things are going so well for me that Im defiantly staying. I love it here a lot and am accomplishing so much! Tegan ( my roommate) and I have been doing a lot of fun arts and craft stuff lately! (pics to come) Today was Black Friday, and working retail that usually means a really shitty day... Well work ended up being kinda slow, but we still sold a lot of stuff! I even helped and bought this vintage coat Ive been wanting for a while now. (pics of that soon too) I hope everyone is doing just as good!! Xoxo my lovely readers.
Shirt: American Apparel bought at Second Time Around:Harvard Square
Waist chincer: Ross
Tights: Jessica Simpson (on sale) at Dillards
Boots: Community Thrift
Jacket: Forever 21
Bag: Coach; Goodwill (Somerville)
Scarf: Goodwill (Tampa, Fl)