While the weather has been gloomy the last few days, it was gorgeous earlier this week. My trusty partner in crime Simon and I rode our bikes to the Arboretum on what was a lovely day. Simon always carries my tri-pod when we go "on location". There are a few spots we usually go to at the Arboretum but this time I took Simon to one of my new favorite spots. Since its somewhat fall, I had to wear something "fall appropriate" but seeing as how I only have so many of my dresses here in Boston, I decided to re-blog about this amazing navy blue, ethnic print dress.
I did this blog post in January of 2010. Wow I have gotten a lot of tattoos since then haha. That always cracks me up with I look at older photos, seeing how many tattoos I didnt have at the time. This dress will forever be amazing, and it was totally worth re-blogging.

Then.
Now.
Simon and I spent a good 2 hours there and caught all different kinds of light. Since no one was around I just left my camera set up while I took snack breaks or just laid in the grass. The Arboretum is so nice its hard to leave some times.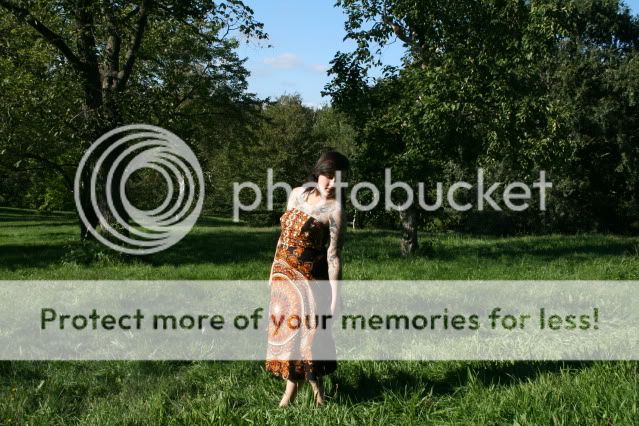 After a lovely afternoon we went to The Behan for a few beers. I always enjoy my adventure trips with Simon. As always, Im trying to keep busy, and still always behind on things. I have so many people I need to reply to and things to send out. Sometimes the world moves to fast for me. I have found so many neat things out and about the last 2 weeks as well, Im working on a blog post for that. I will finally have another vinyl post coming soon and hopefully more paintings!
If you have sent me something, or left me a lovely comment! Im getting to it, slowly... I appreciate all my readers, every day you read/check out my blog, it makes me so happy. I always hope that someone gets inspired by me. Also! I have had 77 followers for some time now, we can really make 80 happen!
I love you all! Thank you for continuing to be lovely. Xoxo.